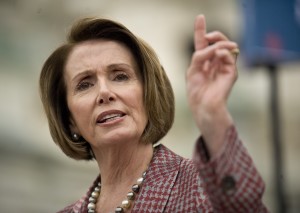 Dear Friends of the Pub Quiz,
For the first time ever, I have relinquished my newsletter duty, handing it over to a Pub Quiz regular, Allie Rubin, a PhD student in Geology who is the team captain of that perpetually contending team known as Trivia Newton John. Let's see what she has to say.
I have been granted one of the highest honors in the land! Dr. Andy has invited me to write a Pub Quiz newsletter. President Obama called this morning with his congratulations. "Not now, Obama!" I shouted into my phone. "I am very busy writing the Pub Quiz newsletter!" He said he understood, and we made a date to get brunch next week, which we will not be Instagramming because Nancy Pelosi always gets upset when we don't invite her. Because I am a benevolent genius, I've decided to give you a quick rundown of some recent current events in case they're the subject of any questions at the Pub Quiz this week:
Donald Trump: Mr. Trump is running for President in 2016. He is doing exceptionally well in the polls given that 1) he may actually just be a latex weather balloon filled with wig scraps and 2) his proposed policies are so fascist that he has already been cast as the villain in the next Indiana Jones movie. You should vote for Donald Trump if you think Mr. Potter is the true hero of It's a Wonderful Life, or if you have ever burned a child's lemonade stand to the ground.
Jimmy Iovine: Apple executive Jimmy Iovine recently said that Apple Music makes it easy to find new music, especially for women, because "women find it very difficult at times… to find music." Mr. Iovine's comments were denounced as sexist and insulting, but I found them insightful because I am a lady, and whenever I search for things on iTunes I always end up having to pull over and ask someone for directions. Once, I tried to download Adele and I ended up purchasing an actual Dell! I can't buy the new Drake song even though I've sent multiple handwritten requests to both Drake and my computer! It is very hard to "have it all"!
Basketball: Basketball is possibly still happening. (I don't know. I'm generally not prepared for the basketball questions. Like any true indoor kid, I prefer to sit quietly and wait for the Shakespeare question.)
Thanksgiving: Thanksgiving is rapidly approaching! Here are some things for which you should give thanks this year: coffee, the fact that George Lucas is not in charge of the new Star Wars movie, the rise of industrialism that has made it possible for me to buy clothes instead of weaving them from coarse natural fibers, One Direction, sleepy puppies, and olive oil.
Now that you have been armed with these exciting and 100% accurate facts, I hope you will join us at the Pub Quiz tonight. I've been attending the Pub Quiz for about four years, and as a scientist and an overly competitive person (no one wants to play Monopoly with me anymore unless a real estate lawyer is present), I've spent a lot of time trying to analyze why trivia is something I enjoy. Why do I experience genuine frustration and rage when I can't remember the name of a Nicki Minaj song? Isn't the fact that there are over 300 billion stars in the Milky Way enough to make my very existence, to say nothing of the amount of time it takes me to unscramble an anagram, seem meaningless? Why did de Veres' decision to remove the pulled pork sandwich from their menu feel like a personal betrayal, when in fact a) it decidedly was not and b) I could make my own pulled pork sandwiches at home with just a modicum of effort?
As it turns out, there is no grand spiritual reason why I go to trivia each Monday. Sometimes it's just fun to go to a crowded restaurant and turn off your phone and drink beer surrounded by your friends and fellow Davisites. It's fun to participate in events that foster a strong sense of community, even if it is kind of bizarrely Ayn Rand-y that the prime objective of the Pub Quiz is for one small group to triumph over the rest of said community. And it's fun to spend precious time and money glaring at your friends for two hours in the hope of winning a used DVD copy of Spy Game, something my team has done.
I hope to see you all at the Pub Quiz tonight, where the topics will range from hummus to famous Italian traitors to overrated shellfish. Also expect questions on barley, toe socks that cut off your circulation because they shrunk in the wash, and the rule of threes. As always, the winners will receive a $50 gift card to a defunct Borders in Newark; the losers will be tied to a chair and forced to moderate the comments on an NPR article about gun control.
Thanks to Allie for filling in admirably!
Here are the actual hints for tonight's Quiz. Expect questions on Leslie Nielsen movies, injured superheroes, lilies, a rung Bel, Roman guides, ragtime music, taxi drivers, people named York, American inventors, funny ladies, populous cities, big farms, men who have won acting's highest honor, nuns with funny accents, people named Harry, villains, wet and windy landscapes, Baptists, leftover rockers, money for nothing, comparing a month to a moth, rich people's sports, space travel, Halloween pelicans, getting back up, respect, the difficulty of saying "thank you," bard adaptations, places that start with B, football records, people who need no "haircut help," styles of styli, imaginative slogans, and Shakespeare. Find other hints via social media.
Because Davis schools and other colleges now take the entire week of Thanksgiving off, tonight I anticipate our being awash with teachers and visiting alumni from Davis High and other schools. As a result, I encourage you to join us early to claim a table. My perambulating wife Kate and I will arrive around 6 to enjoy a Dr. Andy Salad, soon to be added to the Pub Quiz menu.
Happy Thanksgiving!
Your Quizmaster
http://www.twitter.com/yourquizmaster
http://www.facebook.com/yourquizmaster
Here are three questions from last week's quiz:
Sequels. This year in 2015 we saw the release of a sequel whose May 15–17 $69M opening weekend gross set a record for a first-time director, in this case Elizabeth Banks. Name the film.
Food and Drink. In South Africa, what T substance is used to give boiled white rice a golden color?
Pop Culture – Music. In what decade did the band New Order release the most albums and have the most hits on the US dance charts?
P.S. Have I told you that I am working on a Pub Quiz book? I hope the E-book will come out before the holidays, and the paperback in 2016.