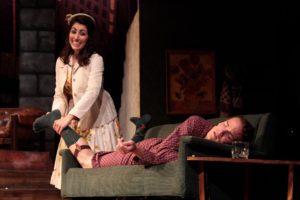 Dear Friends of the Pub Quiz,
One of my favorite scenes from Bells are Ringing, now playing Thursdays through Sundays with Cyrano de Bergerac at the Veterans Memorial Theatre here in Davis, is the song "Drop That Name." In it, the play's comedic heroine Ella finds herself at a high-society party where everyone but her is chatting casually about their interactions with the hoi polloi of 1950s Hollywood. The verses of the song are made up almost entirely by the names of (then) recognizable stars of industry, politics, stage and screen:
Barney Baruch and King Farouk, Alistair Cooke and Debbie and Eddie)
(Lucille Ball and Lauren Bacall, Hedy Lamarr, Roz Russel and Freddie)
(Carol Reed and Sammy Snead and Deborah Kerr)
(Anna May Wong) …………And Ron Ton Tong!
Now it is my turn to drop some names. Gia Battista does a marvelous job as Ella. With her 30+ productions and her recent graduate training in opera, UC Davis alumna Battista, the co-artistic director of the Davis Shakespeare Ensemble, is uniquely suited to thrive in this demanding role that was made famous by Oscar-winner Judy Holliday. The laughter and standing ovation suggest that Battista delights audiences.
Opposite Battista is Ian Hopps, a versatile song and dance man who has impressed Davisites with his voice acting at Stories on Stage Davis at the Pence Gallery, and on E Street and elsewhere as an occasional busking accordionist. Longtime Davis resident and Actors Equity actor Matt Edwards carries Cyrano de Bergerac with his poetic calisthenics and impassioned swordplay. Other standouts in this production include fan favorites Kristi Webb and Pablo Lopez, both with important roles in Cyrano, and ensemble roles in Bells.
I can't decide which play I loved more. With its live orchestrated music and comedy, Bells is so much fun. I was also impressed with the sets, including a subway scene that made me feel like I was underground on the A line heading south towards Greenwich Village. Also, my family friend Jean Stapleton played the role of Sue Summers in the original Broadway production of Bells are Ringing, and in the 1960 film, so I enjoyed imagining her playing that role that helped to launch her career (long before she became Edith Bunker).
As much as I loved Bells are Ringing, however, the poetry, longing, romance, and adventure in Cyrano moved me even more deeply. As a grandiloquent hero, Cyrano inspires any dorky poet, such as myself, who hopes to use his words to woo the most beautiful woman in town. Directed by Rob Salas, both productions are highly recommended, and you have but two weekends left to see both shows before the final showing on July 31.
Late on the first night I saw Cyrano, I found much of the cast at de Vere's Irish Pub (where I had parked my bike), so I got to tell them in person how much I enjoyed their work on stage. In the audience at Bells I saw a favorite Davis Parent Nursery School teacher who had taught my two older children, a respected Yolo Superior Court judge who was once named "the father of downtown Davis," and the President of Team Davis, who noticed (to my delight) that I was taking my disabled son to the theatre. The next day I discussed our experiences of both productions with members of Davis Sunrise Rotary.
You may know the names of some of these people to whom I have alluded, or you may not. When you attend these plays, you will encounter different friends from the ones I met with during intermission. Either way, you may find as I did that these chance encounters represent one of the best benefits of living in our quirky and bikeable city. I admire such people not only because of our friendship and because of their commitments to improving and sustaining our city of Davis. I also admire them because of their commitment to the arts, a crucial element of any thriving community.
We are so lucky to have the Davis Shakespeare Ensemble in our town, sparking the conversations and the imaginations of our residents. Whether you go for the gripping plots, the hilarious comedy, and inspiring poetry, or the invitation to turn off your smartphone for a couple hours, I hope you will catch the final showings of these Davis Shakespeare Ensemble productions, and join me in doubling down on your own investments in the arts. After that next Davis production, you might use the same words that Cyrano uses for Roxanne: "You blessed my life!"
Tonight's Pub Quiz will feature questions on some of the topics raised above, and on all of the following: emo tracks, baseball records, international airports, publishing disappointments, members of the Bush family, inconvenient manslaughter convictions, the lure of trumpets, unwelcome topiaries, hot reactions, Disney films, the EU, expensive shopping options, William Shatner, ancient times, airline users, old ladies, Rolling Stone, the city of Davis, Herbie Hancock, African countries, second languages, county puzzles, governors, hacking, beloved cars, and Shakespeare.
Thursday is Poetry Night in Davis. Melissa Goodrum, a poet and actress who is also a National Endowment for the Arts scholar, is visiting from Brooklyn. Her grandfather was the jazz pioneer Charlie Dixon, a banjoist who played with Fletcher Henderson, Louis Armstrong, and others, so she will have some stories to tell. Much of the poetry Thursday night will be political, and Goodrum will be joined on stage by local musician Timothy Nutter and Brooklyn artist Erin Grey. Find details at the website Poetry in Davis.
I hope you can join us tonight for some neo-theatrical entertainment.
Your Quizmaster
P.S. Here are three questions from the vault:
Looking at its governor and congressional delegation, what is the bluest, that is, most Democratic, state that does not border an ocean?
What D word means "to cut into cubes"?
The Ukrainian city of Pripyat was abandoned almost years ago because of what C word?
P.S. Regretfully, tonight's Pub Quiz will not include questions about John Glenn, who turns 95 years old today.