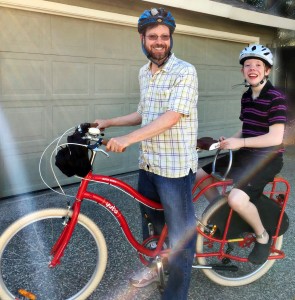 Dear Friends of the Pub Quiz,
Although he grew up in Indiana, and thus played lots of basketball as a youth, bicycling was my father's "sport" of choice in the 1970s. He owned a black, steel Raleigh bicycle with a raised seat to account for his unusually long legs. There was a leather bike bag attached to the back of his seat, and, behind that, a tiny bike seat. I'm sure that seat would not be legal today, and frankly now that I think of it, I don't remember my dad or me wearing a helmet during those years. Despite the fact that the American Society for Testing and Materials (ASTM) would have taken away my dad's bicycling license if they were to see us rumbling down 35th Street, past one of former president Kennedy's Georgetown mansions, we spent many weekend mornings on that route, the best way to Fletcher's Boathouse. That's where we would catch the towpath along the Chesapeake and Ohio Canal, a vestige from an earlier age before locomotives when mules would tow freight boats along the canal.
Just today I learned that "Most freight boats on the C&O Canal were approximately 95 feet long and 14.5 feet wide while most locks were 100 feet long and 15 feet wide. This left boat captains little margin for error as they steered their boats into the locks, trying to avoid the $5.00 fine for damaging lock masonry." The National Park Service website with this important information also reminds us that "All hikers and bikers must yield the right of way to horses and mules." (Our bike paths in Davis can sometimes get crowded, but usually mules are not among the hazards we face.)
My dad and I spent hundreds of hours together biking along those 185 miles of Maryland and Virginia towpaths, which is still one of the largest biking trails in the country. Towards the end of his life dad would tell the story of how, towards the conclusion of an overly-ambitious ride, I would reach out my four or five-year-old hand and rest it on his back, giving him a bit of comfort and strength just at the moment when he strength was flagging. If I still lived in DC, I would investigate how I might arrange for a brick or plaque to be put up along one of those paths: "Davey Marlin-Jones biked past everything you see here, and his son was grateful for every mile."
Fast forward more than 40 years, and today everyone in my "new" hometown Davis is riding a bicycle, or should be. The city has been named the most bicycle friendly town in the United States by the League of American Bicyclists, and we are home to the U.S. Bicycling Hall of Fame. Obviously this is the city for me, for I have adopted my father's sport (though with his casual attention to recreation, rather than, say, competition).
Our city's most dynamic proponent of bicycling, Peter Wagner, was celebrated by the Davis City Council on the occasion of his 60th birthday (in 2012), and Wagner's Whymcycles are to be seem in every important Davis parade or event, most famously in the Picnic Day Parade. I find it strange, then, that the same City of Davis that celebrated Peter Wagner's bicycles just a few years ago has now sent him a formal request to remove those bikes from his property. Doesn't this local inventor, substitute teacher, and celebrated Davis bicycling champion deserve some consideration in this matter? I left a message with Code Enforcement Office Amy Juarez this morning, asking that some accommodation could be found. Certainly we as Davisites should consider how we might come to Peter Wagner's defense. I invite you to review some of the primary documents in this unfortunate matter on the Peter Wagner page on Davis Wiki.
I almost approached Peter Wagner to ask him for some help with a particular biking challenge. My 14 year old son Jukie, now 115 pounds heavy, has been busting the tires on the ride-along bikes that we have attached to mine so that he could join the family on bike rides. Ken of Ken's Bike and Ski correctly called Jukie "differently-abled": he's a kid who loves bicycling but doesn't have the wherewithal to pedal, much less steer, a bike. And he's too big now to sit on a "third wheel" behind my two wheels. So far this year, we have taken family bike rides in shifts, with Jukie watching wistfully from the window.
Well, this past weekend we stopped by one of our city's many bike stores to check out a cargo bike fitted with a soft seat behind mine, and a securely-fastened steel ring to hold on to (I never had a steel ring on my Dad's old Raleigh). As soon as Jukie figured out what we were considering, Jukie ran into the bike store and came out with a helmet, his way of saying that he wanted again to feel the freedom and exhilaration of a bike ride in Davis.
We bought a bright red Yuba Boda Boda 8 cargo bike, and I spent much of the weekend riding that boy around town. Saturday we explored South Davis, and Sunday we rode it out to the Unitarian Universalist Church to see my colleague Dr. Karma Waltonen provide the sermon: "The Sacrilicious Spirituality of the Simpsons." For this family of bicyclists, all sorts of adventures are again available to us, and I am getting just the (intense) workout I need, especially hauling Jukie up to the top of the Pole Line Road Overpass, one of the best places in Davis to watch a summer sunset from the seat of your bicycle.
Tonight expect questions on the Statistic Brain Research Institute, maidservants, gridiron standouts, elective office, regrettable transitions, magma, China, ocean cities, Northern Irishmen, the Olympics, distinctive hats, SportsNet, shows I've never watched, small maritime disasters, the uncanny, high-power nachos, beer choices, blogging, the major, southwestern states, math problems involving animals on Greyhounds, basketball, pretty flowers, presidents, marine life, U.S. Geography, movies about toys, makeup cabinets, Oscar nominees, instant classics, hot topics, Maya Angelou, sports, Star Wars, and Shakespeare.
Tonight's Pub Quiz comes at a time of transition. Many leases end tonight, and about an equal number of new ones start tomorrow. The beginning of the new Pub Quiz "season," tonight we can start work together to find new teams and new players to replace those who, regrettably, are moving away from Davis.
I hope to see you this evening!
Your Quizmaster
http://www.twitter.com/yourquizmaster
http://www.facebook.com/yourquizmaster
Here are five questions from last week's quiz:
Mottos and Slogans.   "Toasted Whole Grain Oat Cereal" is the current commercial slogan for Cheerios. Which has been the best selling variety for years now: regular Cheerios, Honey Nut Cheerios, or Multi-Grain Cheerios?
U.S. States. In 1918, what was the last state to enact a compulsory school attendance law? Hint: The state produces the majority of farm-raised catfish consumed in the United States.
Birthright Citizenship. What infamous Supreme Court decision, authored by Chief Justice Roger Brooke Taney, a former pro-slavery Attorney General under President Andrew Jackson, concluded that African Americans could not be U.S. citizens even if they were born free on American soil?
Four for Four.    The headquarters of which of the following branches of the U.S. military, if any, is found in the U.S. commonwealth of Virginia? The U.S. Air Force, The U.S. Army, The U.S. Marine Corps, The U.S. Navy.
Pop Culture – Music. Born in 1958, what recording artist who has appeared in 21 films and has sold over 250 million records worldwide was inducted into the Rock and Roll Hall of Fame on March 10, 2008?