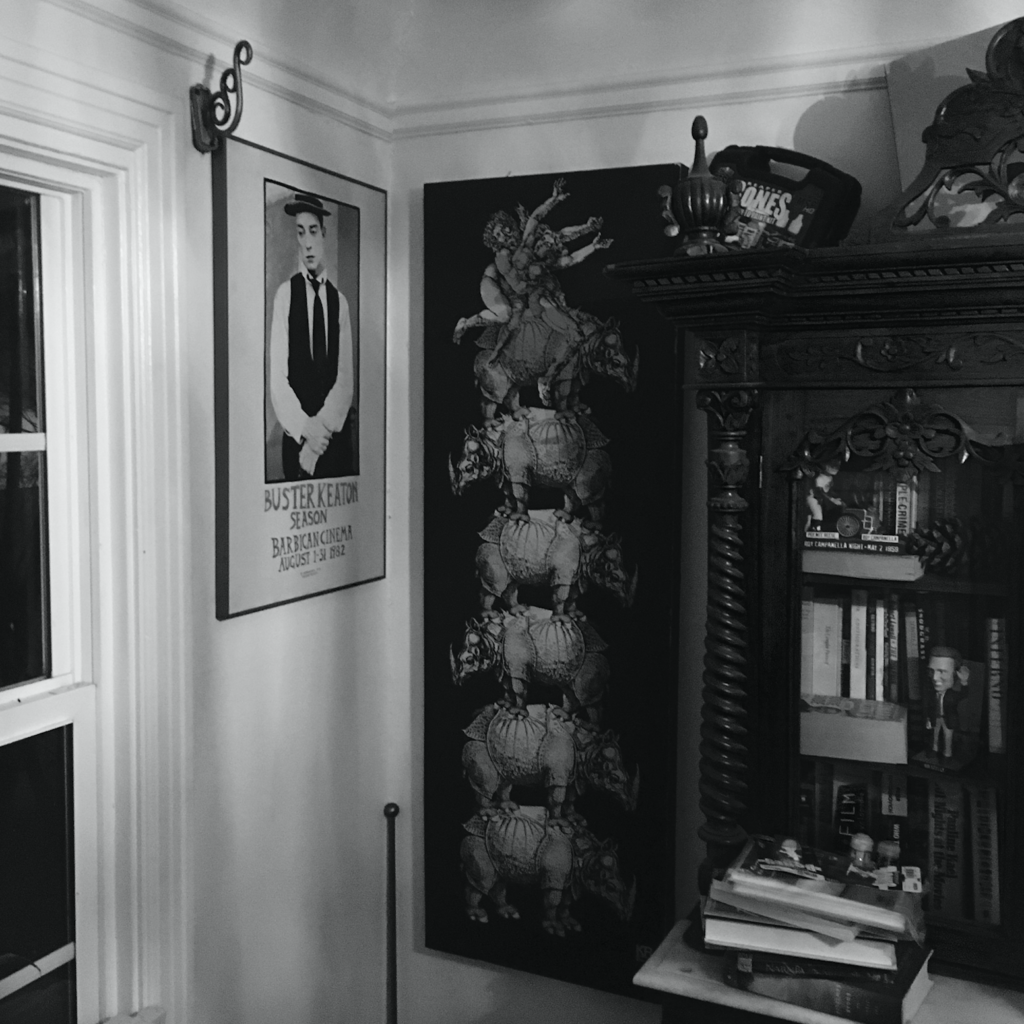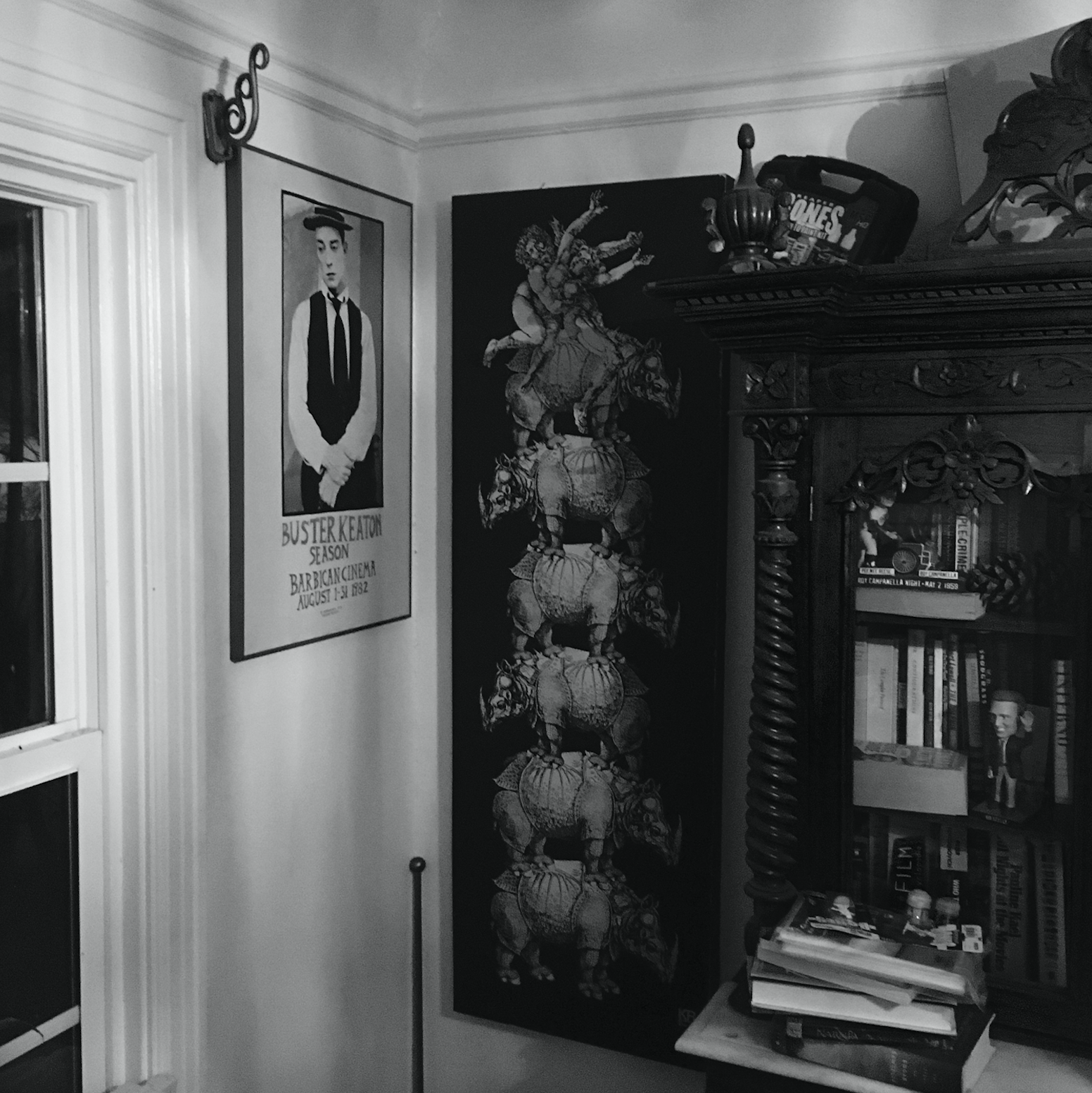 Dear Friends of the Pub Quiz,
I appreciate my mentors for a number of reasons, one of which is that the stories they tell can make previous decades come alive. Howard Zinn was born a decade before my father, and he outlived him by six years. They both told great stories about events that took place long before I was born, and thus enriched my life in ways that continue to sustain me.
Davey Marlin-Jones was a magician, actor, theatre director, film director, theatre critic, film critic, and drama professor, roughly in that order, but with significant overlap. Because of his famous memory and his background in drama, my dad told riveting stories about his experiences in the huge film auditoria of east-central Indiana, such as about the time he laughed so hard at a musical number by the Cowardly Lion in The Wizard of Oz (1939) that he chipped a tooth on the theatre seat in front of him.
Later his cinematic enthusiasms were available for review in book form in my childhood home on Tunlaw Road in Washington DC. I poured through richly illustrated books on Boris Karloff, Humphrey Bogart, and Buster Keaton. For my third-grade birthday party, my father rented a projector and a screen to share both reels of Citizen Kane. I sat next to him while we watched Young Frankenstein, and later, Star Wars, with my dad explaining the historical allusions or mythic context of the films during the drive or cab ride from the movie theatre or screening room to TV station WTOP (later renamed WDMV and then WUSA), the local CBS affiliate where my dad reviewed movies just before Walter Cronkite came on the air to tell us the way that it was.
While Gene Wilder and Harrison Ford were relatively young, emerging actors during those conversations, Bert Lahr, Karloff, Bogart, and Keaton were long dead. Through watching their films on television, and later when the family bought one of the first VCRs in DC, on originally pirated videotape, my dad and I were able to return to the decades of his childhood and young adulthood. I remember looking up to him not only for what he shared, but for what he loved, the cinematic and historical topics on which he could speak with such authority and enthusiasm.
Historian Howard Zinn did the same with history, using storytelling to return my Boston University classmates and me to the 1950s and 1960s. And as social proof for his experiences, he would bring icons who were important in previous decades to our classroom so we could hear their stories, and ask them questions. Ron Kovik told us about the stories relayed in his memoir Born on the Fourth of July. Julian Bond was a Georgia congressman who during the turbulent 1968 Democratic convention became the first African American to have his name entered into nomination as a major-party candidate for Vice President of the United States. He declined that opportunity, but did not decline the invitation from Professor Zinn to come speak before his students.
I bring up my dad and Howard Zinn in the context of California state legislator and anti-war activist Tom Hayden, whose death at 76 was reported this morning. I feel like I knew Hayden from hearing him interviewed on NPR so many times, and from his runs for office here in California in the 1990s. But I also knew the Hayden of the 1960s, when he was arrested as one of the "Chicago Seven" who allegedly conspired with others to incite a riot. Howard Zinn helped everyone in his history class understand that era, and Hayden's ongoing ethical and political concerns. As I review this roiling mélange of memories and names this morning, I return to one troubling question. Did Howard Zinn bring Hayden to campus during that era, as he did Hayden's alleged co-conspirator, Abbie Hoffman? Offhand, I don't remember now. As we get older, we are defined not only by what we do and whom we love, but also who we have lost. Whether for fact-checking, or to relive the magic, too often I wish I could have just one more conversation with my beloved and departed mentors, to ask them once more to share their favorite stories.
Tonight's pub quiz will feature questions about America. Expect also questions about beaches, networking, newspaper coups, big cities, keeping up with the Hemmingways, study visas, crucial decades, first ladies, the Indian military, groups of 23 academics, bookmakers, true vines, non-tropical coasts, Austin, populous countries, popular frights, nebulae, the place of California, dances, the price one pays for rentals, Bruce Springsteen, the pleasure of just watching, Twitter, Japanese lists, implausibility, interstates, mechanics, NCAA, and Shakespeare.
I hope you can join us tonight. We also meet next Monday, and you are encouraged to come in costume.
Your Quizmaster
http://www.twitter.com/yourquizmaster
http://www.facebook.com/yourquizmaster
Here are three questions from last week's quiz:
Mottos and Slogans: Beer. The only beer that has been beechwood aged since 1876, what beer brand uses the slogan "beechwood aged for that clean crisp taste"?
Internet Culture. Beginning in 2003, and with total sales topping $10 billion, what three-word video game series has released games that focused on World War II, the Cold War, and the near present?  
Mascara. The four functions of mascara are to darken, thicken, lengthen, and/or BLANK the eyelashes. What D word fills in the blank?