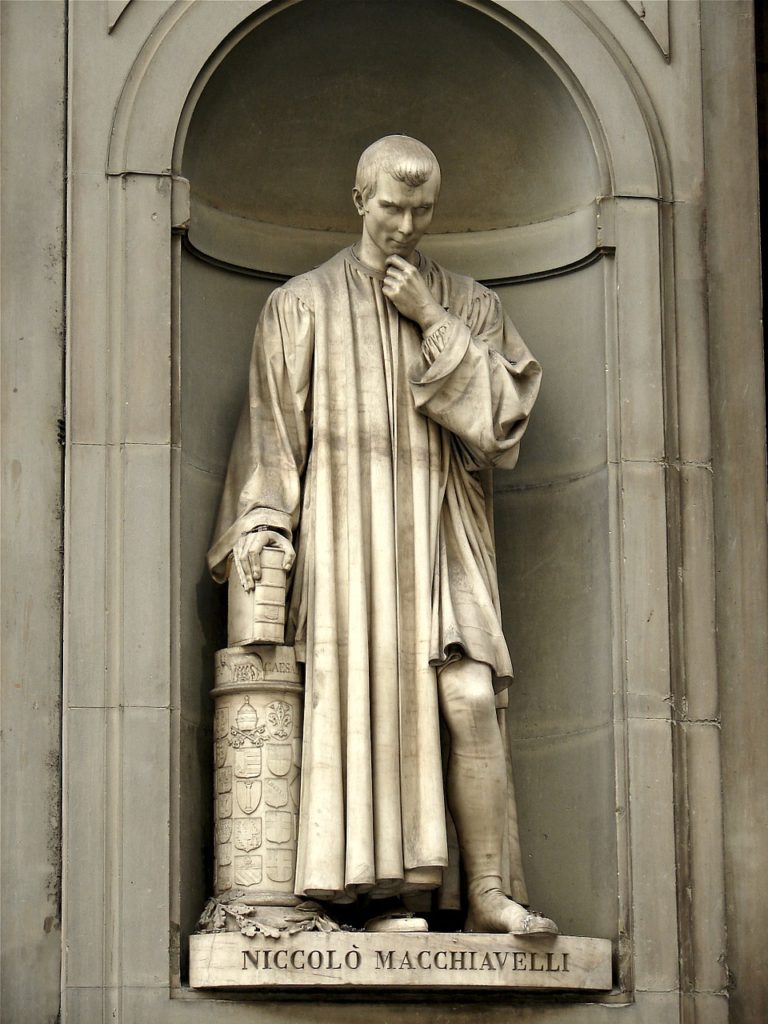 The Machiavelli Scores a Touchdown Edition of the de Vere's
Irish Pub Pub Quiz Newsletter
Dear Friends of the Pub Quiz,
A friend and colleague looked at the halftime score of the
Super Bowl yesterday and then remarked that he "can't help but worry that even
though the Atlanta Falcons will score more points, the New England Patriots
will still win the game." He was half right. His comment made me think about
how much Donald Trump has been talking up the New England Patriots, predicting
that the team owned by his good friend Robert Kraft would win by eight points.
He was pretty close.
Like Trump, The New England Patriots and their coaches are
known for their underhanded play, such as for underinflating footballs or
videotaping and learning opposing teams' signals to their players. Despite this
proclivity towards cheating, the Patriots should nevertheless be congratulated.
Donald Trump says the Patriots are an honorable team.
Nevertheless, I got to thinking about a great number of
current, historical, and even fictional (literary or cinematic) villains that
also deserve congratulations for the Machiavellian ways in which they
accomplish their goals. With the hopes of offending no one, I've created a list
for you.
Here goes:
Congratulations to the New England
Patriots, under-inflator of footballs.
Congratulations to Bill Belichick
for using video to help your team win games, such as by videotaping the New
York Jets' defensive coaching signals.
Congratulations to Donald Trump,
who evidently has called in favors with friends in leadership roles, that is, in
the Kremlin and in the FBI.
Congratulations to Barry Bonds,
still our home run king in Major League Baseball, despite the asterisks.
Congratulations to Ty Cobb, who
sharpened the spikes on his cleats in full view of the opposing infield,
intimidating players from tagging you out as you stole home 54 times.
Congratulations, Lance Armstrong,
for all that time spent wearing the yellow jersey. I hope all that blood you
dosed was your own!
Congratulations Tonya Harding for
clubbing the opposition. You raised the profile of ice skating, and almost got
away with it!
Congratulations, Nero, for being
the last in the Julio-Claudian dynasty. You are one of the ones we remember!
Congratulations, Michael Corleone,
for surviving both the notable Godfather films!
Congratulations, Imelda Marcos, kleptocrat,
on your mountainous collection of shoes. It's hard to believe that you are
still alive!
Congratulations, Emperor Palpatine (AKA
Darth Sidious) on the execution of your order 66. You really plan ahead.
Congratulations, J. Edgar Hoover,
for your devoted work intimidating sitting presidents with what Harry Truman
called our own American "Gestapo or secret police."
Congratulations, Thug Behram, for
inspiring so many two-bit thugs to be named after you!
Congratulations, Kim Jong-un for
distracting us from the work of your crazy father!
Congratulations, William Rehnquist,
for your work choosing President George W. Bush for us. Sometimes democracy
needs some help.
Congratulations, Ivan the Terrible,
for your work as Tsar, and for turning a state into an empire full of hungry
and depressed people.
Congratulations, Mr. Potter, for
not letting on that you had pocketed that $8,000 you found in Uncle Billy's
newspaper.
Congratulations, Dutch Shultz, for
your excellent aim.
Congratulations, Vlad the Impaler,
for your incredible technique, and for retiring the title "impaler."
Congratulations, Nurse Ratched, for
finally calming Randle Patrick McMurphy.
Congratulations, Hannibal Lector,
for being both the villain and the hero in a film that swept the major Oscars!
Congratulations, Iraqi Information
Minister Baghdad Bob, on your comical press conferences and alternative facts!
Congratulations, Tyler Durden, for your
successful campaign against consumerism!
Congratulations, Keyser Söze, for limping
right out of that police station!
Congratulations, Chris Christie!
Everyone but you has paid the price for Bridgegate!
Congratulations, Andrew Jackson,
for your divisive campaign to remove Native Americans. Whereas the Cherokee
nicknamed you "Sharp Knife," we put you on the $20 bill!
Maybe you have others to nominate for inclusion on this
list. Drop me a note or a tweet.
Meanwhile, on to clues. In addition to what we've covered
above, tonight expect questions on associations, carmakers, Bowling Greens,
multimillionaires, nutcases, marathons, Marvels, Oscar-winners,
African-American history, competitive basketball, the Super Bowl, birds' nests,
ramen fuels, a plane full of pilots, musical westerns, Japanese statistics,
intense appetites, Aristotle's ideas about falling objects, animation,
countries that start with vowels, little Irish, James Blake, differing opinions
on the same film, famous villains, President Obama, sustainable eco musketry in
Last of the Mohicans, making money, alternatives to football, famous
paintings, consequences, photography, Stan Lee, the pride of Europe, and
Shakespeare.
Leave extra time to get to the pub tonight. Sometimes
Californians drive a little nutty in the rain.
Your Quizmaster
http://www.twitter.com/yourquizmaster
http://www.facebook.com/yourquizmaster
Here are three questions from last week's quiz:
Books and Authors.  Name the third woman to
win the Pulitzer Prize for Poetry (back in 1923), and who also wrote the
following poem "First Fig."
My candle burns at both ends;
It will not last the night;
But ah, my foes, and oh, my
friends—
It gives a lovely light!
Current Events – Names in the News.     Today
Google honored on its front page a Japanese internment opponent after whom
a Davis elementary school was named. It's not George Takei. Who was it?
Sports.  John Lynch has a new job with the San
Francisco 49ers. What is his new job?
P.S. Poetry Night on February 16th will feature
Dorine Jennette! Join us that night at the John Natsoulas Gallery.