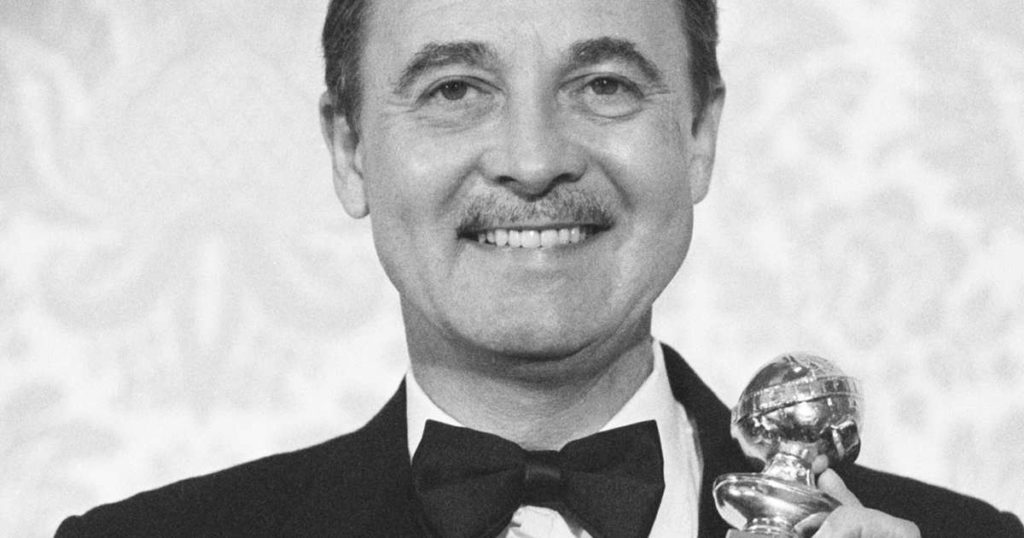 Dear Friends of the Pub Quiz,
My godfather passed away last week.
John Hillerman knew my dad when they were both struggling actors in New York City, John served as best man at my parents' wedding, and then he was active in the Washington Theatre Club when my dad took the job of Artistic Director there in 1965. Although he was born in Texas, Hillerman was appreciated by theatre and film directors for the great variety of accents he could adopt, having played more than 100 roles during those years in the big cities on the east coast.
His New York Times obituary quotes Hillerman as saying that, despite all those years of theatre work, he only had $700 to his name when he eventually moved to Los Angeles to find better roles. I believe the stories of his penury, for my grandmother once told me of John visiting the family cabin with my parents, and not having brought anything to sleep in. Evidently he borrowed one of my grandmother's nightgowns. During that same time period John lived in the basement of my family's Tunlaw Road home, the same basement that I moved into years later as a high school student.
In California, Hillerman was cast in supporting roles in three of my favorite movies of the early 1970s: Paper Moon in 1973, and in 1974 both Blazing Saddles and Chinatown. My dad was a movie critic by then, and I'm sure he delighted in seeing one of his best friends cast in such strong films.
TV stints on The Ellery Queen Show and The Betty White Show helped to prepare him for his breakout role, and probably the reason you know him, if at all: Jonathan Quayle Higgins III on Magnum P.I. To me, this opportunity had two distinguishing features from his other TV series: 1) Magnum P.I. was a huge hit, and deservedly so, and 2) I was watching TV by then. You can imagine how many times I heard this exclamation in those days: "Wait, Higgins is your GODfather?"
I would have known John Hillerman as a member of the extended family if he hadn't moved to LA, and then Honolulu during the relevant years of my childhood and young adulthood. While still in high school, I once wrote him asking about an internship on the set of Magnum, and he kindly wrote back with an explanation of union rules on TV sets. He visited the house on Tunlaw Road in DC in 1983 – his limo pulled up to the front of the house, and stayed there, with the limo driver not coming to the door – and he came in to talk to my mom, brother, and me for about an hour. He signed some photos, I shook his hand, and then I never saw him again, except on TV.
As a child, I opted not to go into theatre in part because I wanted to be my famous theatre director dad's son, rather than one of his actors. Now, more than a dozen years after his death, I regret missing all the lessons about theatre and playwriting that he could have shared with me. Likewise, I sometimes regret not connecting with John Hillerman, and maybe even visiting him in Houston in recent decades, but I remember being told by family how private he was, including with his homosexuality. He was a great friend to my parents, a great actor, and someone I looked up to, if only from afar. Now, during the week of his passing, I wish that I had reached out to express such gratitude and admiration when he could have heard it. He could have shared some terrific stories. RIP, John Hillerman.
Tonight's Pub Quiz will feature questions on perhaps one of the topics raised above, as well as the following: Hamlet, Star Wars, U.S. states, streaks, platoons, shaolin pastimes, unusual names, Latin names, the French, alphabetical alterity, false surprises, countries you probably haven't visited, hunger, Danishes, kites, firearms, amber, numbers, missing billionaires not named Thurston, finding it new, hills and valleys, narrow localities, the greener grass, accomplished singers, blows to Marxism, the question of feldspar, freshness, Google studies, and Shakespeare.
I have a lot going on this week, including a Tuesday, November 14th appearance on Insight with Beth Ruyak, a fall fundraiser on my KDVS radio show Wednesday at 5 (you should call 754-KDVS Wednesday afternoon to help me raise $500), a storytelling festival on campus at 4 on Thursday (want to hear how I met Kate?), a Lynn Freed reading at the Natsoulas Gallery Thursday night at 8, and then my own poetry reading Friday at 7:30 at the Unitarian Church of Davis. You are invited to all these events, either by phoning in or showing up. I would love to see you on a day other than Monday!
But mostly I want to see you and your team tonight at 7. We can raise a toast to all our favorite departed actors. Long may their voices echo in our ears, and in our hearts!
Your Quizmaster
https://www.yourquizmaster.com
http://www.twitter.com/yourquizmaster
http://www.facebook.com/yourquizmaster
To mix things up, here are three movie questions from a 2014 quiz:
Who played the central role of Remy the rat in the film Ratatouille?
Two of the top six credited actors in the Disney film Aladdin have alliterative first and last names. Name one of them.
Who gets to play Moses in the 2014 film Exodus: Gods and Kings?
P.S. Find out more about Thursday night's event with Lynn Freed at https://poetryindavis.com.
P.P.S. Patton Oswalt just got married, and this new Twitter friend of mine seems very happy. For today only, November 13th, his film book Silver Screen Fiend is on sale on Audible for just $2.95. I've just added this book to my library, and not only because Patton devotes a paragraph to my dad.