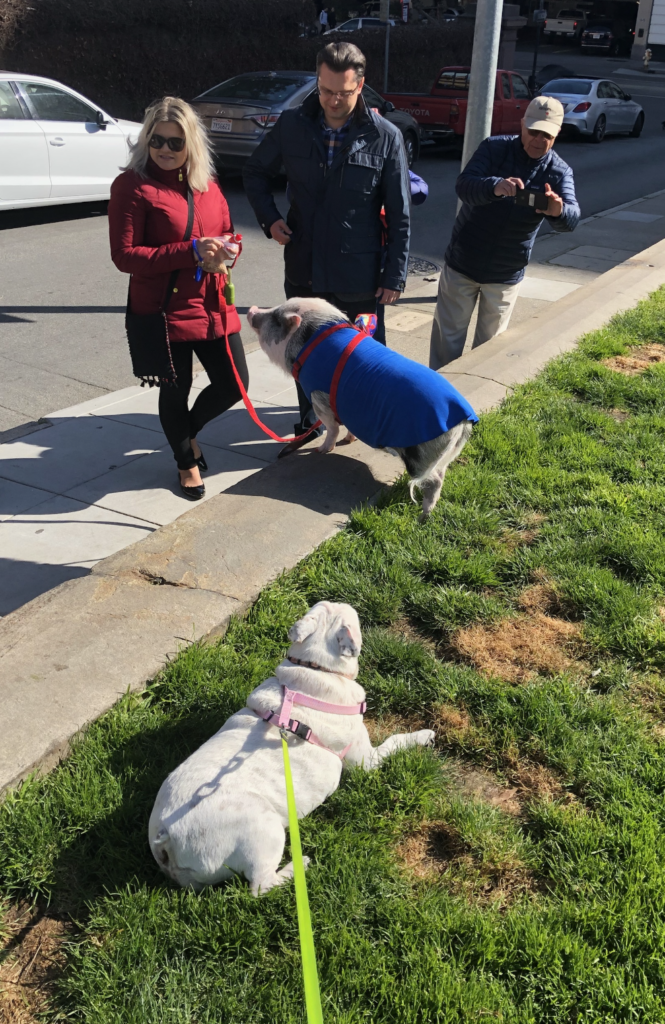 Dear Friends of the Pub Quiz,
Imagine living on top of one of the steepest hills in San Francisco, and having to walk your arthritic bulldog a few times a day. The InterContinental Mark Hopkins San Francisco Hotel is surrounded by irrational inclines and concrete, with drop-offs immediately out the door when one walks north, east, or south. That left my bulldog Dilly and me only one choice, to walk west from this storied structure at 999 California Avenue, from which I write these words this morning. In that direction, one finds Huntington Park, which from Dilly's point of view is Nob Hill's dog sanctuary, and Grace Cathedral, where 5,000 people gathered to hear Martin Luther King, Jr. speak on the occasion of the completion of the cathedral in 1964 (having been started in 1928). My family and I gathered there ourselves just yesterday, staring up in awe at this magnificent structure.
Here for the San Francisco Writers Conference, an event that I've attended each of the last 13 years, I have been enjoying sampling urban life. From my bedroom window, I can see the Trans America Building, the Union Square neighborhood, the hills of Oakland, and even a Macy's. Here since Thursday, I've grown used to the sound of the elevator taking revelers up to the Top of the Mark, and, many stories below, the cables always dragging those tourist-transporters known as San Francisco's cable cars at a steady 9.5 miles per hour. I find it hard to believe, and regrettable, that while more than 30 American cities once had cable car systems (including cities in Rhode Island, Missouri, Montana, Oklahoma, and Oregon), San Francisco's is the only such system that is still operational.
I brought my favorite Davis author with me on this trip, my wife Kate, and she has given me permission to conclude this newsletter with a Facebook post she wrote to accompany a photo collage representing our third full day in "The City by the Bay" (one of San Francisco's ten nicknames, most of them disparaged by locals). Find her words below, and the hints thereafter.
Over dinner tonight, we recounted our favorite moments from Day Three in the City. For Truman, attending a "Teaching Poetry to Children" panel at the San Francisco Writers Conference made his list. He wrote and then performed a poem on the spot. In the park, Dilly made friends with a talented therapy pig named Lilou. Except for writers and the son of Charles Schultz, Lilou was our only celebrity sighting all trip. Jukie enjoyed pruning the fruit trees he encountered, and running full speed straight down the city's vertiginous hills. I loved stepping into Grace Cathedral and happening upon the choir practicing with pipe organ accompaniment. Andy said his highlight was waking up next to me, our hotel suite illuminated by a hint of sunrise and the lights of San Francisco. When I told him I couldn't include that, he said, "why not — it's accurate."
After dinner (Indian food, which Truman described as "unexpectedly good"), we found ourselves almost down to Fisherman's Wharf, a few miles from the Mark Hopkins Hotel, with the temperature dropping a gazillion degrees, and the Pacific trade winds picking up. As none of us was keen on trekking back up to the top of Nob Hill, we hopped on the Mason Street cable car with the rest of the freezing tourists. Jukie had been hoping for some amusement park time on this mini-vacation, so he finally got to spend time on a one hundred-year-old "ride."
We come home Monday afternoon. As Rudyard Kipling once said, "San Francisco has only one drawback. It's hard to leave."
In addition to topics raised above, tonight's Pub Quiz will feature questions about the following: occupations, Dana Gioia, portability, San Francisco, abutments, lyrical questions for angels, apples, the nature of wonder, jealous poets, DNA, articles in The Atlantic, rear admirals, Mediterranean views, California counties, Oscar-nominated films, Lil B, bars in sketchy neighborhoods, Frank Sinatra, demonic names you should know by now, butterflies, the differences between miles and kilometers, metaphorical and actual mortar, ancestors, new words, European countries, the last word in clarity, expensive rides, great Americans, national student clearinghouses, corners and curves, and Shakespeare.
I expect that I will substitute at least one of these questions from the next chapter of my book Pub Quizzes: Trivia for Smart People. I sold a number of copies of my latest book at the conference, as well as copies of my three books of poetry. I hope you had an equally fruitful holiday weekend.
See you tonight!
Your Quizmaster
https://www.yourquizmaster.com
http://www.twitter.com/yourquizmaster
https://www.facebook.com/yourquizmaster
P.S. Here are three questions from last week's quiz. You will also find some, with answers, in every Sunday edition of The Davis Enterprise.
Two-syllable D words. What two-syllable D word, an adjective, refers to sounds that are sweet and soothing? Think antonym to "obstreperous."
Books and Authors. Whose works of poetry include "Paul Revere's Ride" and The Song of Hiawatha? The answer to this question will also be mentioned in a question I ask you this evening.
Film. The highest-ever-grossing film that starts with the letter M, the 14th highest of all time, came out in 2015. Name the film. Although I own this film, I would not list it among my top 200 favorites.
P.S. You are also working on a writing project of some sort, right?