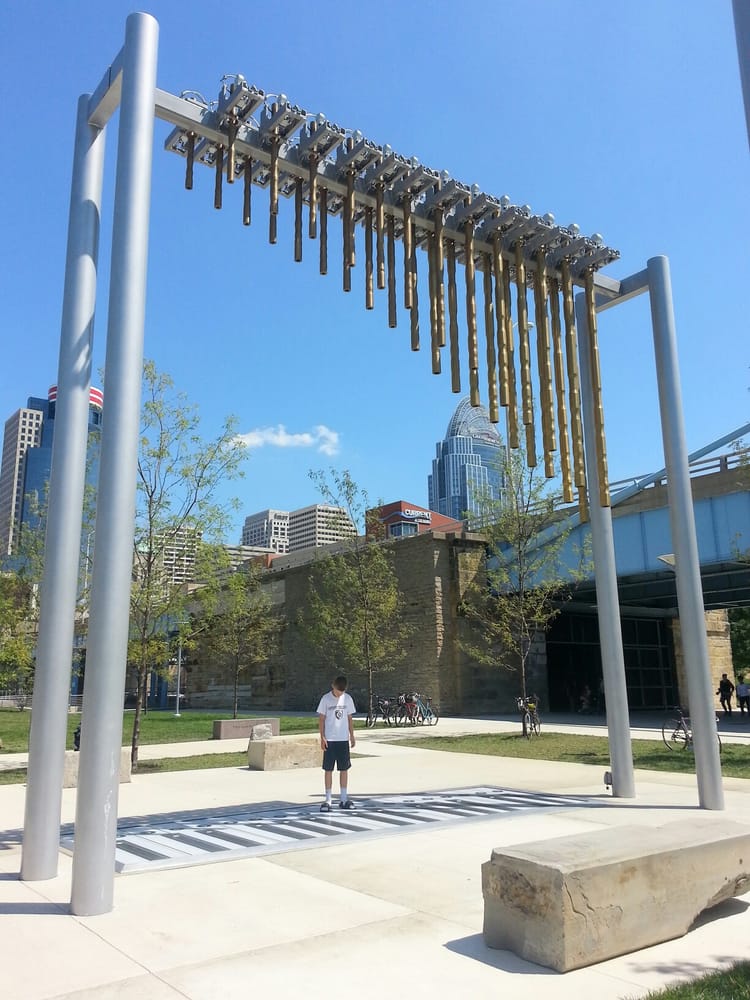 Dear Friends of the Pub Quiz,
Yesterday my wife Kate, my son Jukie, and I spent about 15 minutes on a large metal porch-style swing beneath a shade pergola on the north bank of the Ohio River. Behind and around us was the $100 million dollar Smale Riverfront Park, while across the river from us we could see picturesque General James Taylor Mansion and General James Taylor Park, both named after the founder of the city across the river from Cincinnati, Newport, Kentucky. The temperature was around 80 degrees, with pleasant breezes coming off the Ohio and Licking Rivers.
Over our left shoulder we could see Great American Ball Park, Where the Cincinnati Reds (once called the Cincinnati Red Stockings) were playing the Washington Nationals. Farther west up the river one could see Paul Brown Stadium, where the Bengals play. From our Embassy Suites hotel on the south side of the majestic John A. Roebling Suspension Bridge, one could see both stadia, all of Smale Riverfront Park, and the National Underground Railroad Freedom Center, where we spent much of the day this past Wednesday, learning more about the history of Slavery and Civil Rights in the U.S. While there we also completed interactive exhibits on Nelson Mandela and Rosa Parks. Because my youngest son Truman is such a history buff, we haven't been talking too much about that incredible experience since, for the jealousy would be too much for him. He's already read a few books about Harriet Tubman.
My son Jukie's favorite feature of the trip was the 19-foot-long outdoor piano, complete with 32 keys and huge chimes above that resounded with the notes chosen by the stomping feet of children frolicking below. Jukie loves wind chimes, both ours at home and those at the entrance of the south Davis Rite Aid. He smacks them all every time we enter or exit our community pharmacy, sounding a discordant fanfare that might befit the King of the Surrealist Poets every time he would step on stage or enter the reception room of his imbalanced palace.
We heard discordant sounds at the outdoor piano, as well, for the keys were too spread apart for one to make much of a song; most of the young kids were just thrilled, as Jukie was, by the powerful cause and effect of the deep sonorous reverberations resulting from uninhibited dancing! But then one Reds fan stepped forward. Some of the parents had seen him there before, and knew to gather their children so he could have room to perform. Wearing his Reds baseball cap and a team jersey, he was able to pick out – perhaps I should say "leap" out – the notes of our National Anthem. After he finished, the gathered crowd had cheered, and Jukie looked up at me and smiled, indicating to me that the magic of our trip, of the Ohio River breezes, and of a song with an intensified and almost melancholy poignancy, had formed some summertime memories that will not be soon forgotten.
In addition to some of the topics raised above, tonight expect clues on the following: blondes, brethren, pregnancies, accomplishments under 25, tequila, unseasonably warm weather, nuns, fuel efficiency, cross bodies, differentiated binary categories, fibers, telephone repair engineers, Oceana, abolitionists, the conflation of a language and the people who speak it, sword alternatives, candidates for Governor, blood, air travel, unwelcome suits, cabin pressure, retied at Google, late resolutions, Kentucky, acids, front men, humidity, Emmy-winners, Columbia University's Department of Medicine, Academy Award nominees, bonus anagrams, ornamental leather, domesticity, Katy Perry, large gatherings, particular stars, acrimony, Senators, realistic firearms, slogans for chemicals, and Shakespeare.
Are you planning to join the City of Davis at Community Park on the 4th of July? There will be poetry.
I hope you can join us tonight for Pub Quiz. We sold out last week, but tonight, more teams will probably be willing to sit outside. I recommend that you arrive by 6:30. We start at 7.
Your Quizmaster
https://www.yourquizmaster.com
http://www.twitter.com/yourquizmaster
http://www.facebook.com/yourquizmaster
Here are five questions from last week's quiz:
Mathematics. When considering a group of numbers, we think of average as the mean and the middle value as the median. What word refers to the number that comes up most often?
Science. What do the letters MMR in a MMR vaccine stand for?
Books and Authors. Battlefield Earth, The Color Purple, and Shoeless Joe were all published the same year that Nicki Minaj and Lil Wayne were born. With a three-year margin of error, tell me the year.