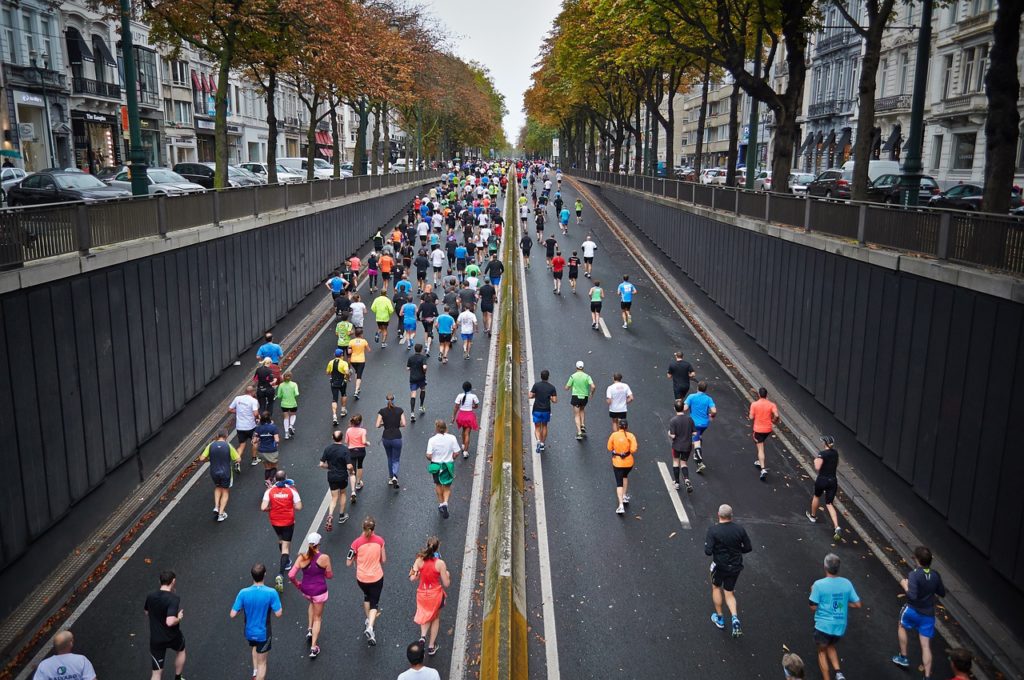 Dear Friends of the Pub Quiz,
This past Saturday morning out my window I saw a young man sprinting down the greenbelt. He zoomed down the bike path like a film's unaccountably speedy protagonist who benefits from post-production special effects to race off towards the horizon. Soon thereafter, I saw a pack of runners running in tight formation behind the first, all members of what I assumed were the UC Davis cross-country team. Brushing my teeth at my bathroom window, I admired their early-morning chutzpah.
Soon thereafter another group of runners came by, and then another, and then a long line of them. Some were doggedly focused, while others farther back in the pack were chatting casually with their buddies or pushing baby-joggers. While the runners, joggers, and, eventually, race-walkers came in all ages and sizes, most had a commonality that I should have spotted at first: Davis Stampede t-shirts. The race route went right past my home, and all the runners participating, from the youthful professionals to the casual fun-runners, were exhibiting more discipline and living more loudly than I was from my bathroom and bedroom windows, watching them go by. Maybe this is what John Lennon, in the last single from his posthumous album Double Fantasy, meant by "Watching the Wheels."
I reminded myself that it was once I who stepped foot into the arena. Although I had run longer distances when living in Washington DC and in Berkeley, the Davis Stampede was the occasion of my longest run with a number on my chest, a 13.1-mile half-marathon. Perhaps I feel excused from such weekend stamina experiments because of my daily bike commute, but I still noted a pang of regret and exclusion with every runner who jaunted happily past my home. These people are really living, I thought, participating in life fully, and I was merely sitting on the sidelines, remembering my running glory days.
That said, a couple hours after this moment of morning reflection I was being introduced to a large crowd by Jay Brookman, commander of Davis VFW Post 6949. I got to sample a different sort of glory that comes with the thrilling rush of public speaking. As your poet laureate, I am often called upon to offer an original poem or two at important events, such as Saturday's "Breakfast for Heroes." As you may know, y most recent book, In the Almond Orchard: Coming Home from War, reflects upon what Sacramento Valley heroes might be feeling upon being discharged from service. The topic was relevant, as the crowd of 200 or so had gathered to recognize our city's public servants, whether they be ROTC cadets, teachers, public safety dispatchers, police officers, student writers, scouts, or veterans of the year. Particularly impressive was Francis Resta, World War II veteran and former Commander of that same VFW Post.
I would like to say that all eyes were on me as I took the stage, but instead everyone watched my son Jukie as he ran for the exit, opening a side door as loudly as can be imagined, as if, instead of merely using the handle, Jukie thought it best to open the door with a collection of wind chimes or a huge dead blow mallet. The resulting noise created was notable, but I chose not even to look to the side to see what was going on: for me it was show time!
Luckily, when it came to keeping Jukie safe, I was surrounded by heroes. Accompanied by a number of boy scouts, perpetual Davis leaders Don Saylor and Lucas Frerichs headed out a side door to attend to Jukie while he pruned some of the trees and sat on the huge sculpture in front of the Veterans Memorial Center, watching the cars go by in the winter sunshine. 1970s househusband John Lennon might have admired Jukie.
While some are content with "watching the wheels go round and round," I say that now is a time when we need more heroes to follow the lead of Don and Lucas by stepping up and showing themselves. Some are speaking out in the political arena, reminding us all of constitutional values and the checks and balances established by our nation's founders. Yesterday's town hall with Congressman Garamendi gave some of our neighbors an opportunity to share their boldness. Some are arranging for food and shelter for our Oroville neighbors to the north, 180,000 of whom have recently evacuated their homes. In fact, as I write this early Monday morning, the aforementioned Don Saylor is serving breakfast and coffee to evacuees living temporarily at the Yolo County Fairgrounds. And some heroes work day after day in public service jobs, to be recognized and celebrated, if at all, for a couple hours on a Saturday morning in February before returning to the work to be done.
Tonight's Pub Quiz will feature questions on some of the topics raised above, as well as on the Grammys, the memories of science fiction authors, Bram Stoker, intermediate-range ballistic missiles, islands, digital downloads, protected elephants, dunked heads, cabinets, music to be heard in bars, odd creatures, knights, state nicknames, ratios, doctors in the house, delicacies that I have never tried, population density, real races, mammal commonalities, little states, Golden Globe nominated singers, entanglements, people named after their jobs, and Shakespeare.
Tonight will mark the last pub quiz night of Trivia Newton John, a Hall of Fame team that has competed amiably, while winning occasionally, in the pub quiz for many years. I hope you will join us this evening to raise a glass in their honor. Also, the break in the precipitation should continue today and tomorrow. Tonight some may even want to sit outside!
See you this evening.
Your Quizmaster
https://www.yourquizmaster.com
http://www.twitter.com/yourquizmaster
http://www.facebook.com/yourquizmaster
Here are three questions from last week's quiz:
Mottos and Slogans.    Starting with the letter C, and with two N's in its name, what company uses the slogan "See what we mean"?
Newspaper Headlines.   What European company recently topped Toyota to become the world's biggest carmaker?
Know Your Metric System. Rounded off to the nearest kilometer, how many kilometers are there in a marathon?
P.S. Poetry Night is this Thursday. Our featured poet will be Dorine Jennette! Please join us at the John Natsoulas Gallery. We start at 8.