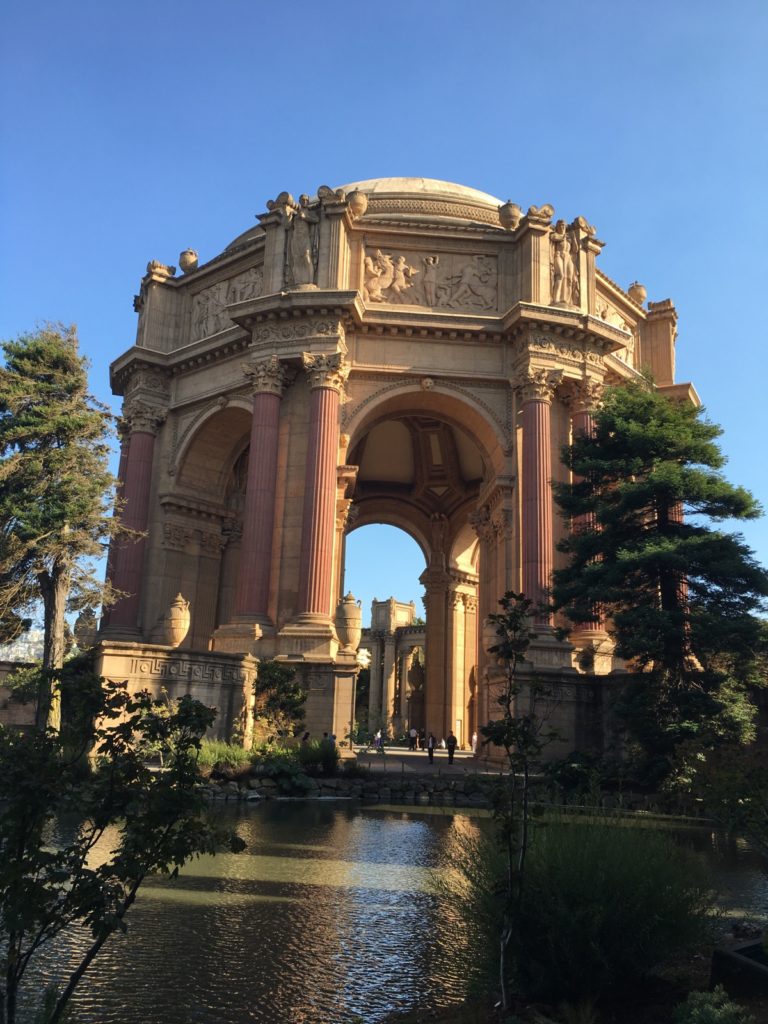 Dear Friends of the Pub Quiz,
The weather reports yesterday revealed that San Francisco was 40 degrees cooler than Davis, so we packed ourselves into the minivan and headed right over to the Presidio. Somehow we found a parking space directly in front of The Walt Disney Family Museum. By the time we stepped out of the museum after our tour, the Presidio's main parade grounds were filled with a huge community picnic, complete with food trucks, loud and happy music, and even cocktail tents. Many families brought their own semicircular half-tents to protect themselves from the elements. At 2 PM we sat on the chilly grass to watch the sailboats out on the Bay near the fog-enveloped Golden Gate Bridge. After that, we enjoyed some Indian soul food that seemed just a bit too spicy for all of us. It was magical.
Soon we started our afternoon-long hike, walking past the pet cemetery on our way to Chrissy Field. The San Francisco Bay trail kept us close to the ocean. We could see Anita Rock, and imagined the swim from Alcatraz, a topic on which our 11-year-old Truman is an expert. He recounted a story that I remembered vaguely from a Clint Eastwood film while we zippered up our hoodies against the cold leeward winds. Finally, at the Palace of Fine Arts, we took pictures amid the fake ruins, as people do.
When we got home late last night, a friend had written me to say that we should drop in on her the next time we are in that neighborhood, saying that she had cookies for the kids and cocktails for the parents. Writers are always looking out for each other. Kate and I and the kids will take her up on that the next time weekend temperatures reach triple digits. When feeling overheated, why not visit winter in the middle of summer?
Meanwhile, today's newsletter arrives late because of another writing project for me. On the 4th of July, our mayor Robb Davis asked if I would read an original poem at the July 18th City Council meeting, a meeting largely devoted to a discussion of city cannabis dispensary policies. With that in mind, I have adapted the John Lennon-penned lyric "Lucy in the Sky with Diamonds." I hope you will join me at 6:30 that evening for the parodic fun. I always love it when a bunch of Davisites march out of the City Chambers as soon as I am done performing, stating with their feet what so many of us are thinking at such events: "I am only here for the poetry."
Tonight's Pub Quiz will touch upon topics raised above, as well as the following: TV shows that may be cultural touchstones but which I just don't watch, that which is difficult to measure, associates, the utility known as the internet, pop stars, places where people dance, eight letters, embattled scions, the need of floss, 20 somethings, obscure sports, the remarkable survival of Dylan, pirates, algorithms, zombies and such, amateur singing contests, peninsulas, reigning champions, Frank Rich is now on Instagram, frogs and toads, talent, Batman, Neptune, rude motormen, pies, overtures, the language of yes, blamelessness, departed people named Patrick, organic compounds, spuds, "reality," Canadians, people named Betty, Republicans in the Bible, The Washington Post, and Shakespeare.
Sacramento poet laureate Indigo Moor reads on July 20th at 8. Mark your calendars and arrange for babysitters!
See you tonight for the Pub Quiz.
Your Quizmaster
https://www.yourquizmaster.com
http://www.twitter.com/yourquizmaster
http://www.facebook.com/yourquizmaster
Here are three questions from last week's quiz:
Unusual Words. What three-syllable T word, means "cruel, unreasonable, or arbitrary use of power or control"?
Pop Culture – Television. What forensic anthropology and forensic archaeology crime procedural TV show finished its 12-season run on Fox this year?
Another Music Question. What are the three numbers in the title of Jay Z's new album?