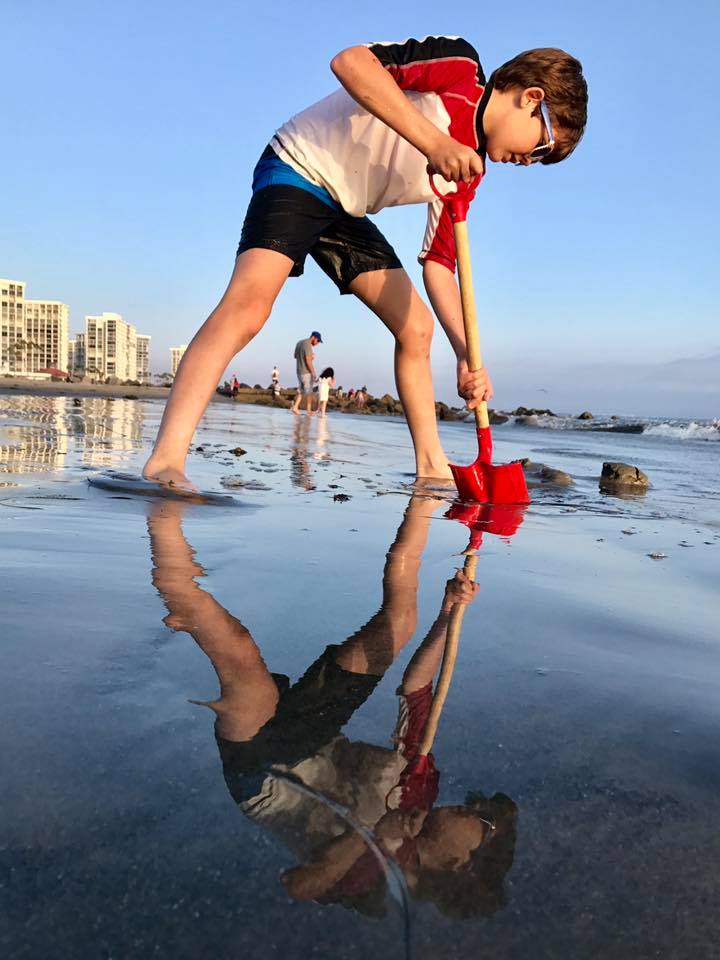 Dear Friends of the Pub Quiz,
As Jukie and I walked south along Coronado Beach, we could see Tijuana, Mexico on the horizon. Called the best beach in the world in 2012, Coronado Beach is home to the famous Hotel del Coronado, filming location for arguably the best film comedy, Some Like It Hot.
During our walk, Jukie and I passed a family of Frenchmen – a dad and three sons – who had made soccer goal markers out of the abundant seaweed. One of them had overshot the goal, sending the ball ten meters into the Pacific, which promptly gave it back. I could almost decipher some of their French exclamations. Perhaps ten years older than me and with a look of concentration, the father had better soccer skills but less gusto than his sons. He had opportunities to hone his skills when each new son came of age, perhaps preparing for this afternoon on Coronado Beach.
Soon we encountered three middle-aged Americans – a man and two women – digging ever deeper with juice pitchers. They were determined, but not frantic. Soon the man got out his metal detector again, and accepted the advice of the women as to where to place and how to angle the cumbersome machine. "We will just have to dig deeper," one said. I expected that eventually they would find a metal bolt rather than a diamond ring.
Farther along the beach a Middle-Eastern couple in their 50s were walking with their daughter in her 20's. Thinking of racial tensions in Charlottesville, I offered a friendly greeting, and they returned it. They might have been locals, or they might have been visiting from 8,000 miles away. I'm about as far from Davis as one can be and still be in California, but I still want people to know that we love and welcome strangers here. The most diverse state in the union, we depend upon the great mix of thinkers, inventors, and workers to power our state, and keep the ongoing dialogue lively and engaging.
The Middle-Eastern family had paused to take pictures, and I could see why. Well after 7 PM last night, we had reached that "magic time" for photographers when the sun's light is diffused by the rising marine layer. It makes us all feel and look beautiful, especially on film. At that hour Jukie and I could see an engagement photographer, a family photographer, and many amateurs who wanted to take advantage of the incredible light.
Jukie lead the two of us for a mile or more on the wide beach. If it were not getting darker, we might have walked for a few more miles until we heard the actual sounds of Tijuana nightclubs. We soon received a text from my wife Kate – I'm freezing, she said – so we started walking back, the setting sun filling our faces with light. By the time we returned to Kate, we saw the photographers packing up their equipment and nodding optimistically to their clients, we saw the French dad walking arm and arm towards the del Coronado Hotel, and we saw the middle-aged Americans climbing out of their hole to exchange a high five.
Perhaps, like Kate with her photography of Truman jumping over waves, and like Jukie and me on our walk, these three prospectors had finally found their diamond ring in the sand.
Tonight's Pub Quiz will be hosted by my colleague Dr. Ted, heroically filling in for me while I continue to vacate. I will be back next Monday, and, before then, I will be hosting Poetry Night on Thursday the 17th at the Natsoulas Gallery. I've written tonight's quiz, so I know that you should expect questions tonight on topics raised above as well as the following: textiles, championships, smiling doctors, foreign and domestic kings, strange citizens, that Black guy, Aggie standouts, calendar quandaries, favorite acids, Europe of yesteryear, that which is webly, C cities, meal locations, California history, newspaper headlines, trade colonies, lip hair, pomposity, three-word titles, church leaders, virtuosi, store brand bargains, not Jefferson, people named Ted, frightening ratios, meta-films, Dr. Andy's summer vacations, and Shakespeare.
Your Quizmaster
https://www.yourquizmaster.com
http://www.twitter.com/yourquizmaster
http://www.facebook.com/yourquizmaster
Here are three questions from last week's quiz:
Mottos and Slogans. In what decade did Yahoo start using the slogan "Do you…Yahoo!?"
Internet Culture. CEO Ben Silbermann summarized his "P" company, founded in 2010, as a "catalog of ideas," rather than as a social network. Name the company.
Newspaper Headlines. In what U.S. state did the governor recently welcome President Trump with the news that he, the governor, had switched from being a Democrat to being a Republican?
P.S. I appreciate your continuing to support the Pub Quiz when I am on vacation. I have also been working on my Pub Quiz book, out by Christmas and selling for $15 a copy. Unlike (perhaps) my poetry books, this one will make a great gift, even for people who know nothing about the Quiz. How many can I put you down for?