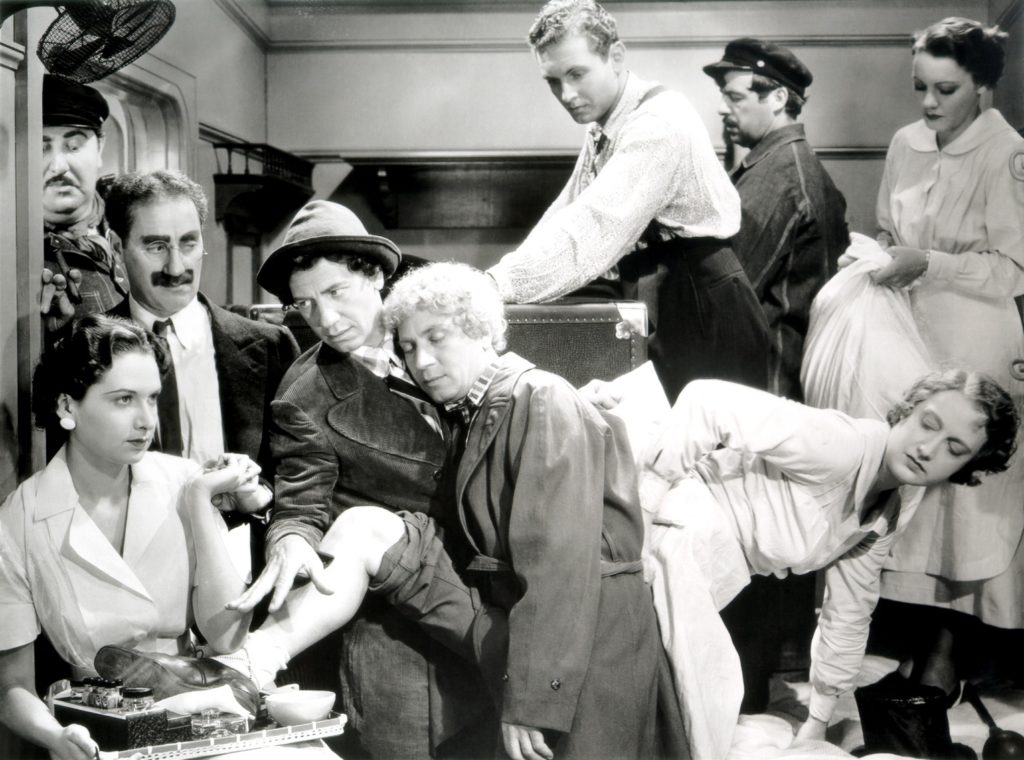 Dear Friends of the Pub Quiz,
Probably everyone's favorite scene from the Marx Brothers' classic A Night at the Opera is the "Stateroom Scene." Are you familiar? In the transcript, below, Groucho Marx plays Driftwood:
A NIGHT AT THE OPERA
STATEROOM SCENE
Driftwood finishes ordering from the steward and steps back into his cabin, closing the door.
Driftwood: Well that's fine. If that steward is deaf and dumb, he'll never know you're in here.
Fiorello: Why sure, that's all right…
(A knock on the door)
Driftwood: Yes?
Chambermaid: We've come to make up your room.
Fiorello: Are those my hard boiled eggs?
Driftwood: I can't tell until they get in the room. Come on in, girls, and leave all hope behind. But you've gotta work fast 'cause you've gotta get out in ten minutes…
Fiorello: Hey, Tomasso. Wake up. They're gonna fix the beds…
Driftwood (to the chambermaids): Say, I'd like two pillows on that bed there, huh?
(As the chambermaids struggle to get to the beds, Tomasso in his semi-conscious state begins to drape himself over the chambermaids.)
Driftwood (to Fiorello) Hey, there's a slight misunderstanding here. I said the girls had to work fast – not your friend.
Fiorello: He's still asleep…
Driftwood: You know he does better asleep than I do awake?
Fiorello: Yeah, he always sleeps that way. Now he's half asleep.
Driftwood: Yes, he's half asleep and half nelson…
(A knock at the door)
Driftwood: Yes?
Engineer: I'm the engineer. I'm here to turn off the heat.
Driftwood: Well, you can start right in on him.
Fiorello: Wake up, Tomasso… Tomasso, we're a gonna eat soon…
Driftwood: You know, if it wasn't for Gottlieb, I wouldn't have got this room? (a knock on the door) Just hold him there a second…
Manicurist: Did you want a manicure?
Driftwood: No, come on in! I hadn't planned on a manicure, but I think on a journey like this, you ought to have every convenience you can get… (Tomasso's foot gets in the way of the manicurist). Hey, listen, I'm getting the manicure. Get out of here, will ya?
Manicurist: Did you want your nails long or short?
Driftwood: You'd better make 'em short. It's getting kind of crowded in here. I don't know. This isn't the way I pictured an ocean voyage. I always visualized sitting in a steamer chair with a steward bringing me bouillon. You couldn't get any bouillon in here unless they brought it in through a keyhole.
(A knock at the door)
Engineer's assistant: I'm the engineer's assistant.
Driftwood: You know, I had a premonition you were going to show up. The engineer's right over there in the corner. You can chop your way right through… Say, is it my imagination or is it getting crowded in here?
Fiorello: I've got plenty of room…
(A knock at the door)
Driftwood: Yes?
Woman: Is my Aunt Minnie in here?
Driftwood: Well, you can come in and prowl around if you wanna. If she isn't in here, you can probably find somebody just as good…
Woman: Well, can I use your phone?
Driftwood: Use the phone?! I'll lay ya even money you can't get in the room! This boat will be in New York before you can get to that phone…
(A knock at the door)
Cleaning lady: I came to mop up.
Driftwood: Just the woman I'm looking for. Come right ahead. You'll have to start on the ceiling. It's the only place that isn't being occupied… (knock at the door) Tell Aunt Minnie to send up a bigger room, too, will ya? (knocking again)
Steward: Stewards…
Driftwood: Ah, come right in!
Fiorello: Hey, Tomasso, the food! The food!
Driftwood: I've been waiting all afternoon for you stewards…
(The stewards crowd into the room as Tomasso dives onto the trays in his semi-conscious state. The next visitor is none other than Mrs. Claypool, who after knocking on the door, finds the cabin suddenly bursting open as people cascade into the ship's hallway.)
My birthday party in the back room of de Vere's Irish Pub was very much like this stateroom this past Friday, but I enjoyed every minute of it. Much like my life these days, people had time or room to stop by, shake my hand or give me a hug, and then went on their way. The Mayor spoke, my daughter spoke, some favorite former students and colleagues spoke, and then we all had homemade carrot cake, brought by a guest all the way from Lodi.
I agree with comedian Eric Idle; he once said, "I have been very blessed in my life and rewarded with good friends and good health. I am grateful and happy to be able to share this." Thanks to all of you who participated, or who wanted to but were turned away lest you trigger chaos, as what happened to Mrs. Claypool.
In addition to a different comedian from the ones mentioned above, expect tonight questions about bests, mature trees, desert divisions, the big switch, San Francisco quality, startups, improv comedy, penguins, thousand-mile journeys, binderies for bombs, German immigrants, Ireland in full color, Prince and Eminem, fateful trucks, the opposite of Titus Andronicus, two times three, Tilda Swinton, tall mountains, ages and eons, Italian cities, pugilism, animation, countries of origin, David Attenborough, lovely hats, sharp wits that sharpen knives, that which we have got to have, Academy Award nominees and winners, swift action, Twitter, and Shakespeare.
Spring has sprung, so you should spring over to de Vere's Irish Pub tonight. Set your clocks. We start at 7.
Your Quizmaster
https://www.yourquizmaster.com
http://www.twitter.com/yourquizmaster
http://www.facebook.com/yourquizmaster
Here are three questions from last week's quiz:
 Voters. Which of the following will be the largest generation of eligible voters in 2020? From youngest to oldest: Centennials, Millennials, Generation X, Baby Boomers, Silent Generation.
Pop Culture – Music. What American DJ Duo has the 5th and 6th top selling singles in the nation this week with "Closer" and "Paris"?
Science.   What P word do we use for a large molecule, or macromolecule, composed of many repeated subunits?
P.S. Poetry Night returns to Davis this week, with a March 16th reading at the Natsoulas Gallery featuring Erin Rodoni, with Lauren Rudewicz as the opener. Rodoni has a new Sixteen Rivers Press book out titled Body, In Good Light.
Read what Thomas Centolella  says about this new book: "The aesthetic that courses throughout Erin Rodoni's sumptuous debut—tender and bittersweet, but also clear-eyed and unflinching—recalls Rilke's ninth Duino Elegy, in which the earth's dream is 'to resurrect / in us invisibly.' That ache of regeneration and rejuvenation is made manifest in Body, in Good Light. In the section entitled 'A Sort of Light We See as Flesh,' the poem 'The Chapel' brings us to a woman'smemorial service, where Rodoni faces 'an altar draped in fabric / that belongs to no faith.' At the end, though, she says: 'We praise/ the faith of whatever machine // keeps the warmth in her hands.' By extension, that warmth extends to the poet, to those she holds dear, and, thankfully, to us."
Poetry Night starts at 8 on March 16. Join us!