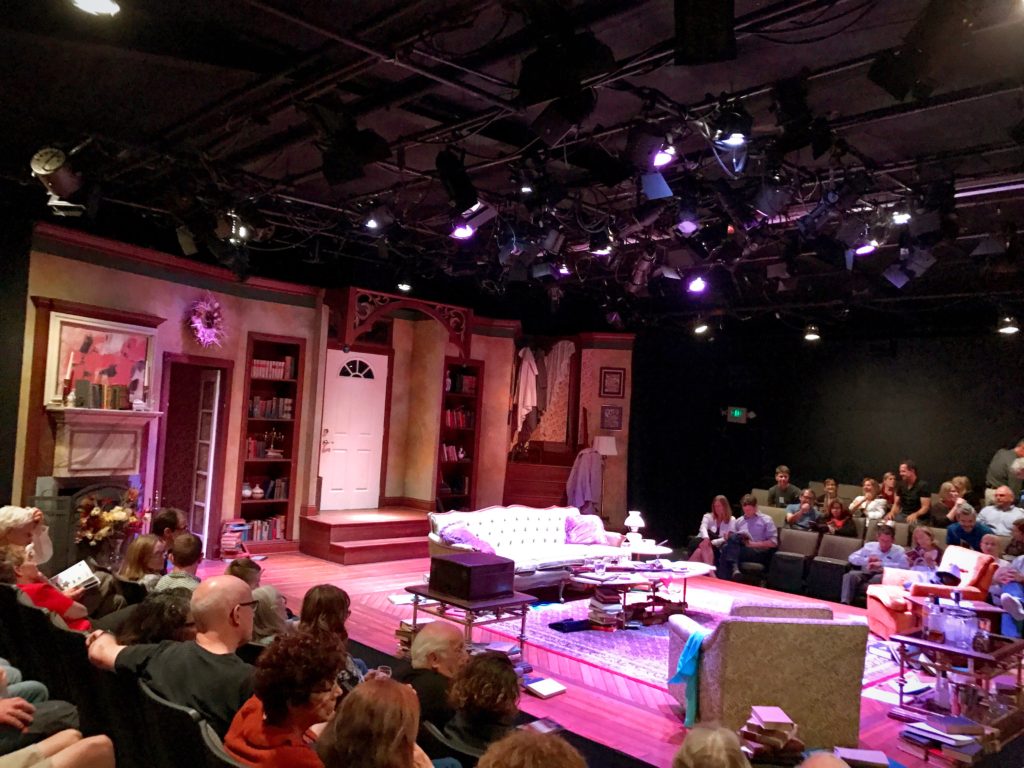 Dear Friends of the Pub Quiz,
There are four giants of 20th century American theatre who are also huge figures in American literature: Eugene O'Neill, Arthur Miller, Tennessee Williams, and Edward Albee. Sometimes added to this list are Sam Shepard, who died in July, as well as August Wilson, Lorraine Hansberry, David Mamet, and Amiri Baraka. As someone who has read and studied plays by all these playwrights, I have come to learn that if you ever have a chance to see a play by one of these American masters, you go.
I met Edward Albee only once. He came to UC Davis 13 years ago, and stopped by Sproul Hall to talk to a small group of professors and graduate students. The iconic playwright was gruff and a bit impatient, as I discovered when I asked him an informed question. He spent a few uncomfortable minutes interrogating me back with his own questions, perhaps to discourage the others from pressing him as I had. Before an audience of my departmental colleagues and mentors, Albee and I talked about his being awarded the Margo Jones Award for the advancement of American Theatre (which my dad also won), and about the local theatre scene, including plays I had recently seen at the B Street Theatre in Sacramento.
Fast forward a decade and a half, and B Street has just launched its first Albee production, the ambitious Who's Afraid of Virginia Woolf? My wife Kate and some friends and I got to attend the opening night performance this past Sunday, and dine and chat with the director and some of the cast. We talked about Albee and this play, but also about the seemingly decade-long plans to open a brand new B Street Theatre in the almost-finished the Sofia Tsakopoulos Center for the Arts at 27th and Capital Avenue, a block from historic Sutter's Fort, and near a great number of fortunate restaurants and coffee shops.
Having been a subscriber at the B Street since before I moved to Davis in the late 1990s, I am certainly partial, but we just loved this production. I was reminded all over again of the impact of watching a world-class play, in this case, one that won the New York Drama Critics' Circle Award and the 1963 Tony Award for Best Play. It was considered too controversial to be presented the Pulitzer. The favorite play by director Dave Pierini, this production reminded me of a Greek tragedy in its conflicts, revealed secrets, and intensity, but with lots of laughs and intrigue along the way. The substance, complexity, and payoff of Who's Afraid of Virginia Woolf? are symphonic, leaving one amazed and intrigued, even the next day.
The two leads, Kurt Johnson and Elizabeth Nunziato, have more B Street productions under their belts than the rest of the company combined, and their experience really shows, convincingly inhabiting their roles as they exchange lines such as these:
Martha: Truth or illusion, George; you don't know the difference.
George: No, but we must carry on as though we did.
Martha: Amen.
Great actors do indeed find truths to share in the communally fabricated illusions of a play. Taken up by the intensity of this production, I couldn't help but (positively) compare Johnson and Nunziato's portrayals of George and Martha to those of Elizabeth Taylor and Richard Burton, the B Street production offering somewhat more subtlety and somewhat fewer broken dishes than in the Mike Nichols film, nominated for thirteen Academy Awards, in every eligible category.
The psychologically gladiatorial combat between George and Martha provides the play its ruthless power, as well as some of its best lines. Jason Kuykendall and Dana Brooke co-star as Nick and Honey, the audience for and recipients of some of the older couple's derision and academically-informed wordplay (George and Nick are history and biology professors, respectively). As an actor, Kuykendall in particular has really matured, his characterization becoming necessarily deeper than other roles given him in recent years, such as that of often shirtless Spike in the B Street production of Vanya and Sonia and Masha and Spike. Dana Brooke does a fine job letting her boozy expressions and tremulous voice reveal her growing understanding of the play's dark narratives and startling enigmas.
The play's tone alternates between comical and brutal, but at the end I found the play to be cathartic and appropriately exhausting. The friends with whom we saw the play harbored none of our preformulated positive biases, but still loved the play as much as we did, one of them writing this: "Amazing. If you're anywhere near Sacramento and can spare 3+ hours, I strongly recommend it." I understand that enthusiasm, and share the recommendation. If you have a chance, go see Who's Afraid of Virginia Woolf," showing at the B Street Theatre in Sacramento until October 29th.
Tonight's Pub Quiz will feature questions about some of the topics raised above, as well as about maritime travel, favorite channels, chiefs, deltas and gulfs, Academy Awards, piano instruction, breaking one's own record, social media, people named Rousseau, delightfully cute meerkats, picking out the American actors, fabrications, advertisements, normalizations, Italian job titles, marines, people named Simone, American heroes, UC Davis, antlers and shoes, famous couples, those Russians, current events, American football, murderousness, fast runners, people named Jones, Batman, chairmen, Frenchmen who may not be French, about five other topics yet to be named, and Shakespeare.
See you tonight at 7 for our own show!
Your Quizmaster
https://www.yourquizmaster.com
http://www.twitter.com/yourquizmaster
http://www.facebook.com/yourquizmaster
Here are four questions from last week's quiz:
Irish Culture. What Irish actor starred both in the big-budget epic Alexander and the dystopian black comedy The Lobster?
Countries of the World. What is the most populous Province in Canada?
Local Libraries. After what UC Davis founder was the primary library building at UC Davis named? Last name is sufficient.
Science. The lightest of all the metals (an alkali metal) has an atomic number of three. What is it?
P.S. Poetry Night (with Lisa Abraham and Denise Lichtig) is Thursday. Have you joined the Poetry in Davis Facebook group? Sometimes I sneak clues in there, as well.